News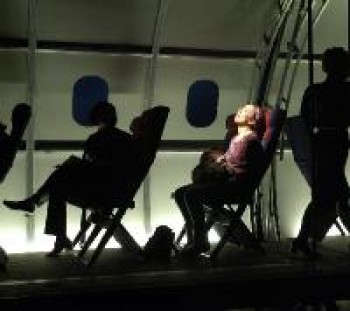 LIPSYNCH hits NYC!
LIPSYNCH gets its USA premiere in New York as part of B.A.M.'s Next Wave Festival.  Audience and critical response so far has been overwhelming:  immediate standing ovations and great reviews.  "CLEAR your schedule: 'Lipsynch' is the show to see right now." (NY Post)
Robert Lepage and Ex Machina's epic 9-hour production LIPSYNCH continues to wow the world.  Lepage, Rick Miller and 8 other actor/writers from around the world have created this monumental epic production that has toured Canada, the UK, France, Spain, Australia, Russia and now the USA. 
"Lipsynch," which weaves together the stories of dozens of characters of several nationalities, most working in some capacity with their voices or with the voices of others, is abundant in startling moments of fine stagecraft. It is a feast of fluid, almost cinematic stage pictures created by blending sound, video and live performance."
(New York Times)
"Several scenes had me in tears of laughter, while others simply had me in tears.  Combine this with a highly ingenious modular set, and you're not just watching stories unfold: You're watching storytelling itself being created.  I literally was overwhelmed to see "Lipsynch" end.
(NY Post)
"an astonishing day at the theater… an evocative feast for ear, eye and heart."  (Time Out NY)
Read the full reviews in the
NY Post
,
NY Times
,
Time Out NY
and the preview in
Time Out NY
Click here for a short promo video of LIPSYNCH

Next stop for LIPSYNCH:  Montreal, Feb 27-March 14, 2010 at
Théâtre Denise-Pelletier.