News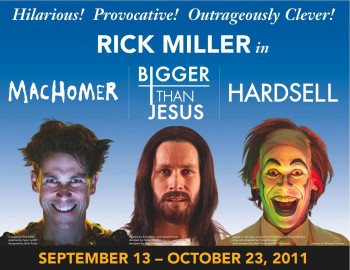 MAC, BTJ and HARDSELL return to Toronto!
The 3 plays are running back-to-back for 2 weeks each at Toronto's Factory Theatre.  MacHomer runs from Sept 13-25, Bigger Than Jesus from Sept 28-Oct 9 and a reworked version of HARDSELL from Oct 13-23 2011.  
Video from my CP24 TV interview.
Audio clips from CBC's Here&Now radio interview.
Rave reviews in Torontoist, Theatromania, and a typically kvetchy Globe&Mail review.

Nice little 3-show preview in Torontoist, and preview in Metro

MacHomer is Miller's hilarious impersonation of 50 Simpsons characters doing Shakespeare's Macbeth.  It is now played for 16 years in 160 cities to over 500 000 fans!

Bigger Than Jesus (co-created with Daniel Brooks and Necessary Angel) was a huge hit at Factory Theatre in 2005, winning 3 Dora awards.  The "sinfully funny" multimedia mass has since become an international success story, playing in 6 countries and 4 languages. 
HARDSELL is based on the Miller/Brooks co-creation that premiered at Canadian Stage in 2009.  For this Factory reworking, Miller has adapted the controversial play into a riveting 'performance/lecture' that boldly examines the commodification of everything and the lies inherent in advertising.  

For video of all 3 shows, go to WYRD's YouTube Channel.
Factory Theatre's 2011-12 season.

Toronto Sun preview article:  "From the Playwright performer Rick Miller will be the first at bat in the Factory Theatre's 2011-12 season, announced Thursday by Artistic Director Ken Gass and Managing Director Sara Meurling — and he's hoping to bat in a triple.